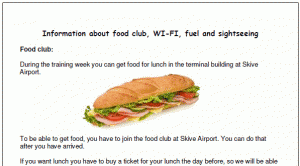 Many of the contestants in the WFFC 2015 will arrive a week or at at least a few days before the competitions begin. The week is designated 'Training week' and the organizers anticipate a fairly high level of activity. Some may need some extra landing practice, and training routes will be available for the navigation tests.
None of this will happen without a solid and reliable ground crew with food and beverages for the pilots, managers and supporters. And surely the aircrafts need fuel. And it would be nice to check the updates on the internet – wouldn't it ?
All of this will be managed by the local supporters from Skive Motorflying Club, and they have collected some practical information. Please check this now on the website, under the tab: Training week.
Here you may also find information about leisure activities in the area which is highly recommended between the flying. The information may also be downloaded and printed.