Some 82 pilots will be joining the 22nd FAI WPFC 2015 in Skive in July. This is a fact as the organizers have received official entries from 19 participating countries. This is not a record in the 42-year history of pursuing excellence in the air and finding the best airmen and -women in the World. But the event this year will be a 1st runner-up only slightly behind the record Championship in 1989 – which incidentally also took place in Skive.
– We are pleased and exited by the high turnout for the Championship, and we really look forward to welcoming everyone soon. It does, however,  keep us quite busy until then, notes Allan Hansen, Championship Director in Skive.
For some of the pilots it will in fact be their 2nd time in Skive as they also took part in 1989. But for most of the pilots and officials it will be a first in Skive, and for China it will be the first time attending a FAI General Aviation event.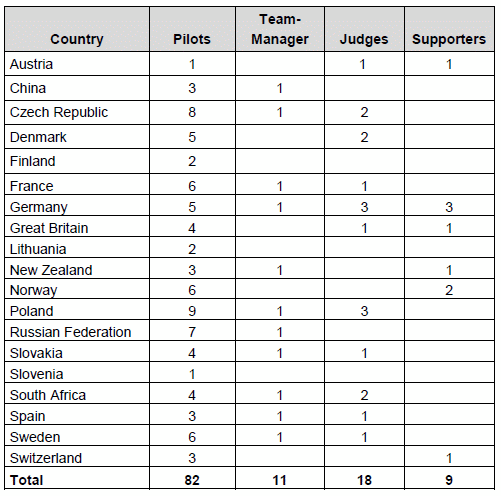 The attendance is well above the expectations, considering the 47 pilots that joined the previous Championship in Germany. One of the practical implications is that not all guests will be staying in the primary Hotel Strandtangen in Skive, but the organizers have secured extra rooms in the nearby Hotel Gl. Skivehus, a Best Western hotel of equally high standard. Please check here for further information.
The high attendance also poses challenges in terms of the the primary sports arrangements with a higher demand for aircraft rentals, and the simple logistics of 80+ aircrafts flying navigation tests three days. And for the landing contest the simple calculation says 320 landings – more or less controlled. Still, the organizers remain confident that it will be possible to manage everything. The days are long in the Nordic summer with sunrise just after 5 am and some 17 hours of daylight…