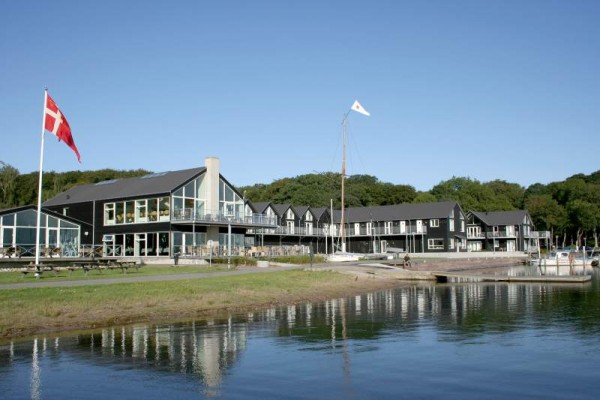 Hotel Strandtangen is primary home base for the WPFC 2015.  It has been the favoured and highly appreciated accommodation for several local and Nordic precision events.
Located some 7 kilometres from the airport and close to the Skive city centre, the hotel offers modern rooms, an excellent restaurant and a range of other facilities that will come as close to 'home' as possible for the competition week – and for many participants also for most of the week before.
The literal meaning of the name is: Beach Isthmus, as a direct reference to the location – where visitors will also find easy access to a quick swim in the clean water.
Hotel Strandtangen may be contacted directly:
Hotel Strandtangen
Strandvejen 28
7800 Skive
T. +45 96 760 800
F. +45 96 760 900
E-mail: reception@strandtangen.com
Or visit the hotel website for further information: http://www.strandtangen.dk (in Danish, English and German).

The so-called Sjægtshuse are very distinct and part of the hotel facilities

A sjægtshus is originally a small hut on the harbour where local fishermen stored and repaired their fishing nets and other equipment

Many of the rooms at Hotel Strandtangen offer prime view of the Marina

The restaurant offers prime cuisine and a view to the Marina just outside

The rooms in Hotel Strandtangen af modern with normal facilities and distinct 'Nordic' touch
Hotel Gl. Skivehus – a nearby Best Western Hotel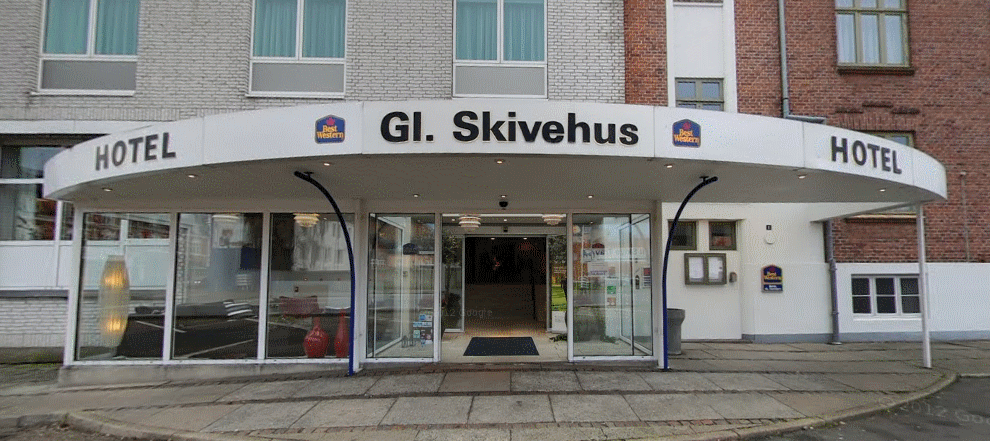 Because of the high number of entries, some of the nations will be lodging at the nearby Hotel Gl. Skivehus, a member of the Best Western chain. This hotel is in equal or even higher standard and is located nearer the City Centre. The two hotels are located within walking distance of each other.
Although Hotel Gl. Skivehus is a modern hotel it is in fact located where the first settlers arrived and built a castle some 1000 years ago.
If history is not the primary concern, it may be interesting to know that  Hotel Skivehus lies  at the heart of Skive where  you will find excellent shopping facilities and just a few minutes walk away you will find parks, woodlands and the beautiful Limfjord with its lively boating harbour.
Address:
Hotel Gl. Skivehus,
Søndre Boulevard,
DK-7800 Skive
Tel. +45 97 52 11 44.
For more information, please visit the hotel homepage: http://www.skivehus.dk/en/