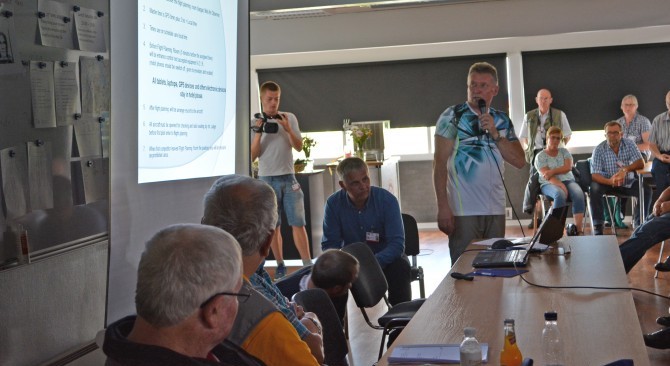 The 2. navigation at the WPFC 2015 was an ordeal for organizers as well as the contestants. Although not requested by the organizer DMU Sport, the day began with a light drizzle, low cloud base and visibility: Not suitable for a general aviation event !
But as always in Denmark, the weather is only temporary, and as the morning progressed the clouds began to spread and visibility went from less than 1000 meters to clear. So, with three hours delay, the pilots finally began to calculate the stage of the day – the BLUE route.
As the pilots began to return from the stage it seemed clear that it had been an ordeal for them, too. After the passage of the weather front the wind picked up from west, and the pilots had to concentrate very hard on just flying the aircraft on track and on time with the turbulent wind.
Fortunately, although not unexpected, everyone returnet safely to Skive Airport – the last aircraft around 7:30 pm. And again not unexpected, the result of the strenuous day, the list of results showed a strong presence of Polish and Checz pilots – with one French and one Slovakian pilot among the top-14. But only two pilotss managed to find all the targets and photos on the track, and this was less than the first navigation – adding more penalties. The actual flying and timing was however still very impressive considering that there were 25 time checks, and only a permitted margin of error of 2 seconds at each.
Please take a closer look at the results at the results page here: