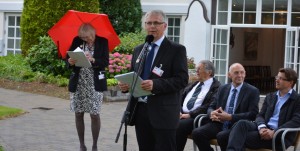 The WPFC 2015 was generally a great success in in all aspects, and this was reflected in the Final Report presented by Competition Director Allan Hansen at the FAI GAC Annual Meeting on the Azores in October 2015. The Report outlines some of the interesting details from behind the scenes – including the fact that Denmark was not originally in the picture as an organizer. The decision was in fact a result of some fast thinking and decision making at a GAC meeting in 2013.
Among the other news the report reveals that the event also contributed to the continued operation of FAI. According to FAI-GAC decision, organizers pay sanction fee of EUR 40,- for every competitor. This amount of total EUR 2.960,- for the 74 participants was paid to the FAI-GAC account during the championship.
New committee chairman
At the meeting on the Azores the report was well received by the delegates. So well that Allan Hansen was rewarded with the election to chairman for the FAI GAC Precision sub committee.
The meeting also focused on the upcoming World Rally Flying Championship to be held in Portugal in 2016. Among the elections for this event was the appointment of Vagn Jensen to President of the Jury. Vagn Jensen also played a central role in the precision championship in Skive.